Automatic Fire Suppression
RASSCO SECURITATE sells, designs, installs and maintains Automatic Fire Suppression Systems.
Chronologically, in the 70s it was carbon dioxide extinguishing agent most commonly used. Progressive, Halon 1301 was substituted carbon dioxide due to its qualities. Recently, it was shown that Halon due to the presence of bromine and chlorine composition possess destructive power of the ozone layer, whose protective against ultraviolet radiation emitted by the sun is recognized. 
Consequently , many countries have signed the Montreal Protocol in 1987 targeting progressive reduction until production stopped HALON.In this context, it became essential to find a solution that meets the following requirements:
EFFECTIVE IN EXTINGUISHING FIRE NUMEROUS TYPES : A, B , C 
ENVIRONMENTAL COMPLIANCE 
NEUTRALITY VIS-A-VIS LOCAL AND PROPERTY PROTECTED 
NEUTRAL EFFECT ON HUMANS ALLOWING THE LOCAL TO BE LAGGING DURING EXTINCTION OR RAPID RETURN AFTER EXTINGUISHING THE RESCUE MATERIALS AND DOCUMENTS 
This gas is a mixture of three naturally occurring inert atmosphere : 
NITROGEN 52 % 
ARGON 40 %
CO2 8%
Inergen site offers effective protection against fire: 
Suffocate very quickly start a fire without causing degradation and without being dangerous to people inside. Effect of fire consists of reducing the concentration of oxygen. Breathing is possible and the fire is off. Normal atmosphere contains about 21 % oxygen and less than 1% CO2. If the oxygen concentration falls below 15 %, combustion is stopped. During spill oxygen concentration must not fall below 12.8%. For this percentage limit CO2 concentration up to 4 %. Increasing the concentration of CO2 increases a person's ability to absorb oxygen, offsetting lower oxygen content in the atmosphere. 
Inergen is a neutral gas environment: do not attack the ozone layer, consisting of gases are found naturally in the air and does not create any aggressive product Instalatie1Inergen gas is harmless to humans, being medically tested and recognized by the Ministry of Health. 
Inergen was subjected to a 20 minute test six subjects undergoing atmosphere under medical supervision. 
Inergen extinguisher is the most friendly, he has no negative influence on the equipment located on the premises: 
IT'S NOT CORROSIVE 
IT DOES NOT CONTAIN FLUORINE, CHLORINE OR BROMINE 
NOT A HEAT SHOCK 
NOT CAUSE CONDENSATION 
NOT ELECTRICALLY CONDUCTIVE 
IT'S USE DOES NOT INVOLVE STOPPING PRODUCTION ACTIVITY

RASSCO SECURITATE sells, designs, installs and maintains Water Fire Suppression Systems.
Fire sprinkler installations are automated detection systems, signaling and fire extinguishing using water as the extinguishing agent. Provides a safe and effective fire protection when well chosen, sized and installed correctly, and operated and maintained systematically by providing: 
DANGER OR RISK OF FIRE; 
LOCATION, BUILDING FLAMMABILITY AND VALUE. 
Sprinkler systems are used to: 
CLOSED CONSTRUCTION AND SPECIAL CATEGORIES OF EXCEPTIONAL IMPORTANCE; 
SOUNDSTAGES ARRANGED AND CLOSED TELEVISION STUDIOS; 
THEATERS, DEPARTMENT STORES, WAREHOUSES, FREIGHT; 
UNDERGROUND PARKING GARAGES AND MORE THAN 50 CARS AND CLOSED AT THE GROUND MORE THAN THREE LEVELS. 
Sprinkler installation must always be under pressure and can be done in the following systems: type of water – water and water – air type.  
Water systems – water is used to protect buildings where there is danger of frost. 
The principle of operation is as follows: valve triggers fire alarm check valve functions as a normal and generates an alarm when a sprinkler activates minimum and senses flow rate. ACS connecting pipes are filled with water sprinklers switch- fire immediately. Chamber of delay is added to prevent accidental triggering the fire alarm if mains water pressure to ACS acquis is not constant. 
Water-air systems are used to protect buildings where there is no heating. Operation is similar to water-water system, the difference being that the pipes in the distribution network connected to the control and signaling devices are not filled with water, but with compressed air or nitrogen. Thus, in case of fire sprinkler acquis which opens generates a pressure drop in the system required to operate the valve opening and trigger the alarm. All system components guarantee a prompt and effective action of fire, the very first moments. Accelerator ensures rapid evacuation of air from the pipes allowing water to fill the sprinkler piping and sprinklers act in a very short time.
Fire Suppression - Water Mist
RASSCO SECURITATE sells, designs, installs and maintains Water Mist Fire Suppression Systems.
Extinguishing system with water mist arose from numerous research in order to cover all the needs and requirements of the fire protection requirements, as an alternative to other systems: halon, CO2, sprinklers and presenting many advantages compared to the methods mentioned above. Pure water as fog has the ability to extinguish fires with high calorific value: Fireworks flammable liquids, gases (eg. Hydrocarbon solvents), shots from electronic equipment, cables, wood, paper. It's the easiest and cheapest extinguishing system using a small amount of water. Fields of application are multiple: 
STORAGE OF FLAMMABLE LIQUIDS 
KITCHEN HOODS 
TRANSFORMER STATIONS 
GAS TANKS 
GALLERIES CABLES 
TECHNICAL PUBS 
ENGINES 
Placed in the sewer diversion emission nozzles generate a fine spray of water cone filled with a droplet size of the order of 20 to 200 microns. This type of spray is generally obtained using internal divergence that causes a controlled turbulence before reaching the outlet of the nozzle. Special geometry of these nozzles allow their use at low pressure without requiring a pressurizing agent, resulting in a simplification of the installation in relation to high-pressure systems. 
Principles of fog water system: 
WATER DROPLETS CREATES A HEAT EXCHANGE WITH THE ENERGY PRODUCED IN THE COMBUSTION ZONE, PREVENTING TEMPERATURE RISE. THIS EXCHANGE OF ENERGY IS PROPORTIONAL TO THE SURFACE AREA OF THE WATER DROPLETS BUT NOT VOLUME. AT AN EQUAL VOLUME, THE MORE DROPLETS ARE SMALLER, THE SURFACE ENERGY THAT IS EXCHANGED IS GREATER 
A SIDE EFFECT IS THE DECREASE IN OXYGEN CONCENTRATION. THE DROPLET OF WATER NEAR THE FIRE OUTBREAK, IT WILL GRADUALLY EVAPORATE, EXPANDANDU – IS 1,600 TIMES, THUS REMOVING OXYGEN 
CLOUD WATER DROPLETS FILTER INFRARED RADIATION, THUS PREVENTING TEMPERATURE RISE 
CLOUD WATER DROPLETS PLAYS AN INSULATOR AND PREVENTS HEAT FLOW DISPERSION 
RADICALS THAT ARE PART OF THE CHAIN REACTION OF COMBUSTION ARE ABSORBED BY WATER DROPLETS, THUS INTERRUPTING THE REACTION SEQUENCE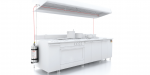 RASSCO SECURITATE sells, designs, installs and maintains automatic extinguishing systems for hoods and professional kitchen equipment, for fire protection.
Rassco Securitate S.A.
Street Comana nr.11 
Sector 1
Bucharest
011273 
Romania
Telephone:+4 031 438 00 85
FAX:+4 031 438 01 71
Email: office@rasscosecuritate.com